Be part of something special.
We're a Boston institution.
Our roots run deep, and our branches extend far.
Musician, social activist, and chaplain Larry Hill founded the Back Bay Chorale in 1973. His desire was to create a musical community that would bring meaning to both singers and audience. In the years since Hill's death in 1989, the Chorale has continued to grow in stature under music directors Beverly Taylor, Julian Wachner, James Olesen, and, since 2004, Scott Allen Jarrett. In that time, the Chorale has become a leading participant in our region's cultural conversations, engaging with Boston's finest orchestral players and internationally recognized soloists. 
We believe in the power of voice.
Our ensembles advance the spirit of community, wherever and whenever they sing.
All the recent research consistently affirms the connections of the joy of singing with health and happiness. This power of voice extends from our smallest ensembles that nourish the ear and soul of those suffering with Alzheimer's and dementia to our full 120-voice ensemble performing the great works of our repertoire. In every instance, what inspires our sound is a shared commitment to a sincere and authentic experience, advancing the spirit of community through our song. 
We are committed to this community.
We build bridges with people.
We believe that music should not be limited to those who can visit the concert hall. Our Bridges program, launched in 2013, connects the music we sing to our mission of service. Whether welcoming our country's newest citizens with the National Anthem, performing for veterans recovering from injury and PTSD, or creating choruses to help literacy training at the Boston Public Library, Bridges connects and uplifts communities across the Commonwealth. 
No other chorus in Boston combines the commitment to musical excellence and the dedication to serving the Boston community like Back Bay Chorale.
Community Partnerships
Our partnerships include: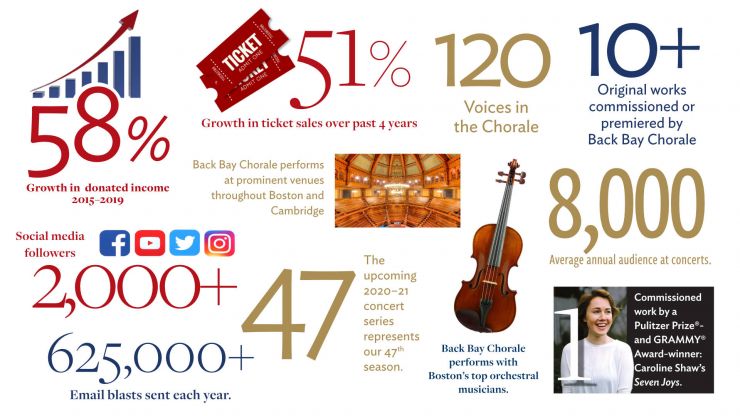 ---
Why us.
Your support matters.
With your help, we can do more.
As with nearly all nonprofit artistic endeavors, ticket income covers only a portion of expenses. Back Bay Chorale makes every effort to maximize revenue streams, but your support makes the difference. It will help us not only to maintain our commitment to musical excellence and community involvement, but to grow artistically and bring the joy of live performance to even more people. 
It's good for business.
Reach an educated, culturally curious, civically engaged audience.
Partnering with Back Bay Chorale aligns your business with a recognized nonprofit arts leader. Your brand gets direct exposure to a civically-invested, culturally diverse and engaged audience throughout the year—not just in the concert hall.
Partner with a non-profit leader.
We support your brand.
As a corporate partner, your company benefits from our engagement with our audience and supporters, as well as from our ongoing promotional efforts. Marketing communications channels include: 
Direct Mail • Print Advertising • Social Media Engagement • Email Marketing • On-site Promotion • Radio Advertising • Peer-to-Peer Marketing
Back Bay Chorale strives to be a best-in-class organization, and we are continually working to refine our operations. Becoming a corporate partner with Back Bay Chorale means you are partnering with a professional progressive organization that understands and appreciates the value you add.
For more information, or to sponsor Back Bay Chorale, contact us at info(at)bbcboston.org