Zaira Meneses
Guitar Soloist

Hailed by The New York Times as "an arresting performer full of colorful touches," Zaira Meneses's  musicality,  charisma, and impeccable technique have delighted audiences on four continents.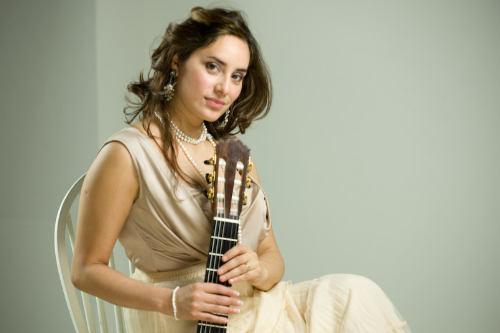 Meneses has been acclaimed by the international press as a major performing artist of the classical guitar. In 2018, she was awarded a grant by the Boston Foundation to bring authentic Son Jarocho (Veracruz sound) music — performed with jaranas and requintos (guitar-like string instruments) — to Massachusetts. The same year, she performed "Elegiaco Concerto'' under the baton of Leo Brouwer, the renowned Cuban composer, guitarist, and conductor. In 2019, Meneses was selected to perform in Brouwer's documentary El origen de la Sombra, filmed in Havana, Cuba:  6 preludios by Leo Brouwer dedicated to Zaira Meneses, supported by the Augustine Foundation and the Robert E Davoli and Eileen L Mcdonagh Charitable Foundation. 
Meneses is the Founder and President of the nonprofit Eliot Fisk Guitar Academy (EFGA), a new platform dedicated to offering music education worldwide. Her sold-out independent CD, Latina, led to a new recording with Centaur Records: Wunderbach, a 45-minute program of Meneses's solo guitar arrangement of works by Johann Sebastian Bach. It is availabe on her web site (CD) and at Apple Music. 
Meneses is also the Founder and Artistic Director for the Latin American Music Festival and has been the Co-director of Boston Guitar Fest for eighteen consecutive years. She continues to perform guitar concertos with orchestra, solo recitals, and chamber music, while managing the various events of EFGA. Visit her web site at zairameneses.com