Back Bay Chorale presents Johannes Brahms's uplifting  Ein deutsches Requiem.
Friday, May 6, 2022 • 8:00 p.m.
Sanders Theatre, Harvard University • Cambridge   

Back Bay Chorale and Orchestra
Maya Bloom, soprano
Ryne Cherry, baritone
Scott Allen Jarrett conducting
The Bridges  ESL Chorus  (in partnership with the Boston Public Library) is singing  on the stage at 7:40 p.m., before the concert. Check out  WBZ NewsRadio 1030's report  on the chorus.

All attendees must be masked at all times, per Sanders Theatre's policies.
Sanders Theatre COVID Guidelines >
---
Comfort for the Living
Brahms's humanist masterpiece continues to provide comfort and hope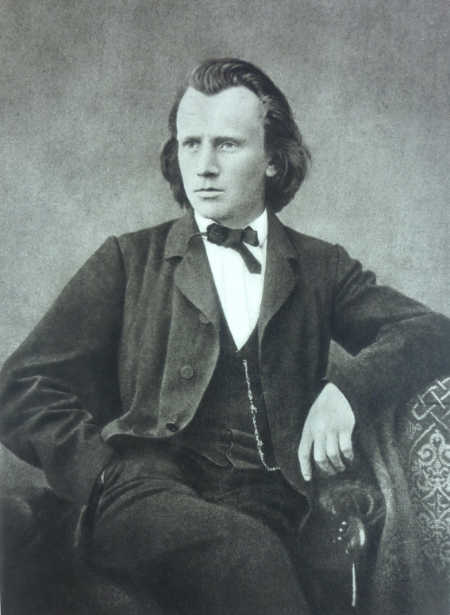 On February 2, 1865, Johannes Brahms received an urgent telegram from his brother Fritz: "If you want to see our mother once again, come immediately." Their mother, Christiane Brahms, had suffered a stroke. Brahms, in Vienna at the time, rushed back home to Hamburg,  but he was too late. The loss of his mother affected the composer profoundly, and he soon began composing  Ein deutsches Requiem (A German Requiem).
Though the death of his mother was likely the immediate catalyst for the work, it's also possible that the idea for it originated after the death of his mentor, Robert Schumann, nine years earlier. It was, of course, Schumann who had made the unknown Brahms famous by declaring him Beethoven's musical heir in a widely-circulated publication. Many in the musical world had yet to be  swayed by that bold proclamation.  Ein deutsches Requiem  would do the convincing.
A private man, Brahms gave no indication of whose memorial the  Requiem  might be, or, for that matter, where his personal religious beliefs lay. But the universal message of its vision transcends the circumstances of its conception. Brahms's stated intention was to write a requiem to comfort the living, not one to plea for the souls of the dead. As such, the text of his  Requiem  has little in common with the traditional Catholic, Latin Mass that had been employed by Mozart and others. He compiled the text himself from both Old and New Testaments and from the Apocrypha, and the work focuses on faith in the Resurrection, rather than the horrors of the Day of Judgment.
The choice was a bold one, and not without controversy. Indeed, after the conductor of the Bremen premiere expressed concern that the  Requiem  omitted any reference to Jesus, Brahms responded by writing that "As far as the text is concerned, I will confess that I would very gladly omit the 'German' as well, and simply put 'of Mankind,' also quite deliberately and consciously do without passages such as John 3:16." The clergy of the Bremen cathedral insisted on presenting more doctrinally sound music after the  Requiem  was first performed there. But despite its unorthodox text, Brahms's  Requiem  was immediately recognised as a masterpiece of exceptional vision, and it finally confirmed Brahms's reputation as a composer of international stature.
---
How to get there
Harvard Square T
Sanders Theatre is located at 45 Quincy St, Cambridge—just a 10 minute walk from the T in Harvard Square. 

Free Parking
Free parking is provided at Harvard's Broadway Garage, at the corner of Felton and Broadway. Enter Felton Street (one-way) from Cambridge St. Allow 10 minutes to park and walk to Sanders. Tell the attendant that you are attending a function at Sanders Theatre.
Soloists
Maya Bloom, Soprano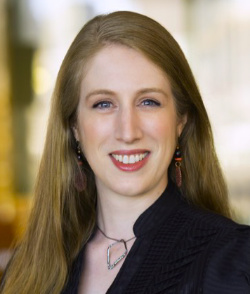 Soprano Maya Bloom holds a BA in Vocal Performance from Haverford College, PA and an MM in Music Teaching from UMASS Lowell. She taught elementary school music for several years and performed as a soloist for several local groups including the Halalisa Singers and the choir at Church of the Redeemer, Chestnut Hill. She has taken her teaching skills to a software company, where she is part of a team that designs and delivers high-quality, accessible online learning, and pursues her passion for music outside of work.
Bloom recommitted to private voice study with teacher Jessica Tunick Berens, and joined Back Bay Chorale in 2019. She performed with and provided musical direction for the Boston-area protest choir Vocal Opposition, and helped organize Broadway sing-alongs that raised money for local charities, and she looks forward to resuming these activities after the pandemic. Bloom is thrilled to have the opportunity to sing such a meaningful solo with Back Bay Chorale, and dedicates her performance to her grandpa, who always loved to hear her sing, and who sadly passed away from COVID-19 in December, 2020.
Ryne Cherry, Baritone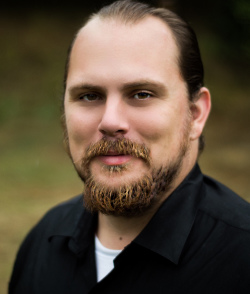 Praised for his "gripping performances" by The New York Times, baritone Ryne Cherry commands the stage in repertoire ranging from opera and musical theater to new music, oratorio, choral, and everything in between.
Cherry's 2021-2022 season includes performances of Purcell'sThe Fairy-Queen with Portland Bach Experience, a national tour of Wayne Shorter and Esperanza Spaulding's jazz-opera Iphigenia, regular appearances with Handel and Haydn Society including Bach's Magnificat with Raphael Pichon and Bach's St. Matthew's Passionwith Bernard Labadie and the Orchestra of St. Luke's at Carnegie Hall, and a debut with Miami-based Seraphic Fire in concert of music for men's voices. He closes out his season as a Virginia Best Adams Fellow at Carmel Bach Festival in California.
Recent opera roles include Dandini in Rossini'sCenerentola (Boston Midsummer Opera), Don Pablo in the workshop premiere of Omar Najmi's En la ardiente oscuridad, Matt of the Mint in The Beggar's Opera (Emmanuel Music), Filch/Ed/Beggar/Police Chief Smith in The Threepenny Opera (Boston Lyric Opera), Altair in the Boston premiere of Strauss's Die Ägyptische Helena and Valère in Le médecin malgré lui (Odyssey Opera), Second Prisoner in Fidelio with Boston Baroque, and Sam in A Quiet Placewith the BSO's Tanglewood Music Festival. Cherry recently placed third in the Lyndon Woodside Oratorio-Solo Competition hosted by the Oratorio Society of New York, selected from over 100 singers internationally.
On the concert stage, Cherry has appeared with Nashoba Valley Chorale in Faure's Requiem, Symphony Pro Musica in Dvořák's Te Deum and Orff'sCarmina Burana, Tufts University in Mozart's Mass in C Minor, and Back Bay Chorale in Beethoven's Mass in C and Mendelssohn's Die erste Walpurgisnacht, and others. An advocate of new music, Ryne has also premiered works by living composers, including James Primosch, James Kallembach, and Robert Kyr. Although Boston-based for many years, Cherry currently lives in Madison, Wisconsin with his wife Britt, their dog Macy, and their two cats, Reese and Scallop.