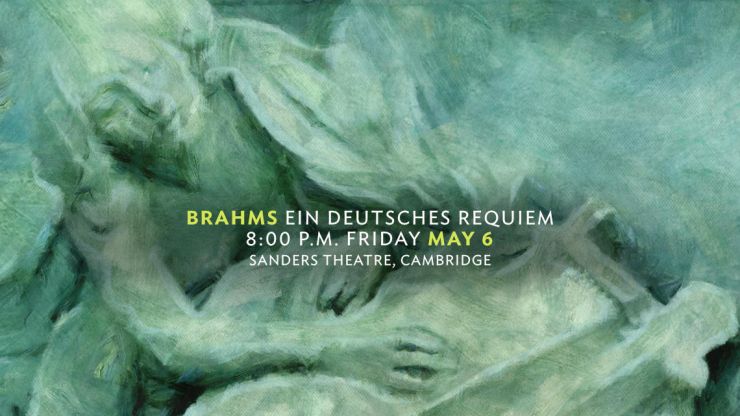 Back Bay Chorale presents Johannes Brahms's moving  Ein deutsches Requiem.



Friday, May 6, 2022 • 8:00 p.m.
Sanders Theatre, Harvard University • Cambridge

Back Bay Chorale and Orchestra
Soloists TBA
Scott Allen Jarrett conducting
Tickets go on sale early 2022
Comfort for the Living
Brahms's humanist masterpiece continues to console

On February 2, 1865, Johannes Brahms received an urgent telegram from his brother Fritz: "If you want to see our mother once again, come immediately." Their mother, Christiane Brahms, had suffered a stroke. Brahms, in Vienna at the time, rushed back home to Hamburg,  but he was too late. The loss of his mother affected the composer profoundly, and he soon began composing  Ein Deutsches Requiem (A German Requiem).
Though the death of his mother was likely the immediate catalyst for the work, it's also possible that the idea for it originated after the death of his mentor, Robert Schumann, nine years earlier. It was, of course, Schumann who had made the unknown Brahms famous by declaring him Beethoven's musical heir in a widely-circulated publication. Many in the musical world had yet to be  swayed that bold proclamation.  Ein deutsches Requiemwould do the convincing.
A private man, Brahms gave no indication of whose memorial the  Requiem  might be, or, for that matter, where his personal religious beliefs lay. But the universal message of its vision transcends the circumstances of its conception. Brahms's stated intention was to write a requiem to comfort the living, not one to plea for the souls of the dead. As such, the text of his  Requiem  has little in common with the traditional Catholic, Latin Mass that had been employed by Mozart and others. He compiled the text himself from both Old and New Testaments and from the Apocrypha, and the work focuses on faith in the Resurrection, rather than the horrors of the Day of Judgment.
The choice was a bold one, and not without controversy. Indeed, after the conductor of the Bremen premiere expressed concern that the  Requiem  omitted any reference to Jesus, Brahms responded by writing that "As far as the text is concerned, I will confess that I would very gladly omit the 'German' as well, and simply put 'of Mankind,' also quite deliberately and consciously do without passages such as John 3:16." The clergy of the Bremen cathedral insisted on presenting more doctrinally sound music after the  Requiem  was first performed there. But despite its unorthodox text, Brahms's  Requiem  was immediately recognised as a masterpiece of exceptional vision, and it finally confirmed Brahms's reputation as a composer of international stature.