The Outer Edge of Youth
A Choral Opera by Scott Ordway
Saturday, March 2, 2024 • 4:00 pm
The Cathedral Church of St. Paul
138 Tremont St.
Boston, MA 02111

Back Bay Chorale
Amy Nicole Broadbent, soprano
Emily Marvosh, contralto
Emily Isaacson conducting
Buy "The Outer Edge of Youth" Tickets
"Exquisite in every way." —Gramophone
Commissioned by The Thirteen, Scott Ordway's  TheOuter Edge of Youth  is a choral opera that explores and critiques the relationships between childhood, landscape, aesthetics, and contemporary ideals of masculinity. The Washington Classical Review  calls it "a hypnotic, haunting fable…The Outer Edge of Youth has both the solemnity and wonder of an oratorio and the heightened emotion wrung from the enhanced reality in which opera specializes…the music shimmers, soars, and settles…creating an ecstatic catharsis."  
Emily Isaacson
Music Director Finalist and Guest Conductor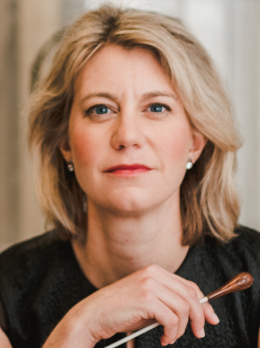 Dr. Emily Isaacson is fiercely committed to reimagining classical music for today's audience. She is founder and artistic director of Classical Uprising, a performing arts collective that serves  over 6,000 musicians and music-lovers through its programs: Oratorio Chorale, a symphonic chorus and professional orchestra; Portland Bach Experience, an immersive music festival; and Horizon Voices, a youth choral program for singers K-12.
Dr. Isaacson was named the 2018 "Maine Artist of the Year" by the Maine Arts Commission. In 2008, she helped to launch Roomful of Teeth, a GRAMMY Award®-winning new vocal music ensemble. She is also a past winner of  the American Prize in Conducting and has taught at Clark University, Bowdoin College, and  the University of Illinois. Isaacson holds a master's degree in musicology from the University of Edinburgh, Scotland; a master's degree in conducting from the University of Oregon; and a doctorate in conducting from the University of Illinois.
About the Soloists
Acclaimed for dynamic performances of oratorio, art song, opera, and chamber music, Amy Nicole Broadbent is a sought-after interpreter of works by Bach, Handel, and their contemporaries, as well as 20th century composers such as Barber and Stravinsky, and newly-composed works.
Visit Amy's web site >
American contralto Emily Marvosh has been gaining recognition for her "plum-wine voice," and "graceful allure," on the stages of Carnegie Hall, Jordan Hall, Disney Hall, Lincoln Center, Prague's Smetana Hall, and Vienna's Stefansdom.
Visit Emily's web site >
---
SYNOPSIS

PROLOGUE. Before humans walked upon the surface of the earth, the birds all sang from high above.
ACT I
SCENE 1. On an afternoon walk through their small town, two boys at the very end of childhood— Sebastian and Nicholas—hear voices coming from the forest near their home. As they approach, they realize that they can understand the birds who sing deep in the woods. The birds invite them to enter the forest.
SCENE 2. During a sunshower, the boys witness a foxes' wedding ceremony and ask the birds what force binds these mysterious creatures together.
SCENE 3. Though the sun is still shining, it begins to snow gently. As the boys move deeper into the forest, they discover an unlikely thing: an apple orchard growing in a large clearing. The ground is littered with white apple blossoms. A strong wind causes the petals to rise up, swirling around the boys and meeting the falling snow at the horizon. The boys—especially Sebastian—are overwhelmed by the silent beauty of their surroundings, and ask the birds how they can adequately express their gratitude for what they see and feel. The birds disappoint the boys by telling them that the beauty of creation is and must always remain a mystery, and question the wisdom of the game they are playing by speaking to the boys.
ACT II
SCENE 4. In a second clearing, the boys encounter a bear caught in a trap. Her leg is badly broken and she is whimpering in pain. Her two young cubs nestle at her side, uncomprehending. None of them will survive. The two boys —but Nicholas especially—are overwhelmed by the compassion they feel for the bear and her young ones. The sight of this suffering is too much for them, and they angrily ask the birds why they have shown them such a brutal thing. The birds explain that compassion for other creatures is a distinctly human quality, and that they should celebrate their intuitive urge to help and care for other living things. The boys are beside themselves with grief and reject this teaching. Sebastian leaves in anger. Nicholas remains behind, begging the birds to transform him into one of them so that he can be free of the pain he feels as a human. They agree, and he is transformed into a bird, leaving behind his capacity for empathy and compassion, but also finding a sense of peace that eluded him as a boy.
SCENE 5. Sebastian finds himself at the far edge of the forest, looking out over the sea. He notices that Nicholas is missing and asks the birds where they have taken him. While he can still hear their song, he can no longer understand their words. He mourns the loss of his friend, but intuitively understands that he must have chosen to remain in the forest. Knowing that Nicholas was always restless and never truly at peace, Sebastian takes comfort in imagining his friend at home with the birds in a way that he never could have been among humankind.