Emily Isaacson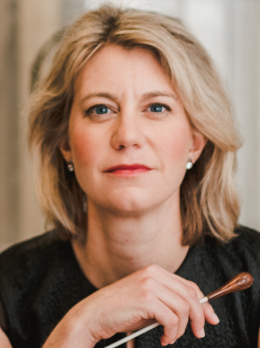 Dr. Emily Isaacson is known for forging a magnetic rapport with audiences and musicians alike. Considered a leader in arts entrepreneurship, she is Artist of the Year by the Maine Arts Commission, one of the 50 Mainers Leading the State by Maine Magazine, and the 2018 face of Women's Work edition by Maine Women Magazine.
Isaacson is the founder and artistic director of Classical Uprising, a performing arts company that believes classical music must rise up, challenge current norms, and re-envision where, how, and for whom we are making music. With over 50 concerts and events year-round, Classical Uprising serves over 6,000 musicians and music lovers through its programs:
Oratorio Chorale: symphonic chorus presenting five programs (16 concerts) a year
Portland Bach Experience, a series of immersive classical music festivals
Horizon Voices: four ensembles for grades k-12 developing the next generation of creative citizens
Equally at home in orchestral and choral conducting, chamber and large ensembles, and with early to contemporary music, Isaacson's performances have been heralded as "one of the most moving musical events of the decade" (Portland Press Herald), "little short of phenomenal" (Maine Classical Beat), and "not just music...the full panoply of human creative endeavor" (Wiscasset Newspaper).
A strong advocate of new music, in 2008 Isaacson helped to launch Roomful of Teeth, a GRAMMY-winning vocal ensemble which received the 2014 GRAMMY for Best Chamber Music/Small Ensemble Performance, and whose Partita for 8 Voices was awarded the 2013 Pulitzer Prize in Music.
A St. Andrews Society Scholar, Isaacson holds a bachelors in english from Williams College; a masters degree in musicology from the University of Edinburgh, Scotland; a masters degree in conducting from the University of Oregon; and a doctorate from the University of Illinois. Her dissertation, "The Binding of Isaac: Comparative Musical Perspectives on Conflict and Faith in the Age of Modernity," focuses on the music of Israeli composers Aharon Harlap and Menachem Zur and American composer Steve Reich, as well as Akedah compositions by Carissimi, Charpentier, Britten and Stravisnky and visual art by Ghiberti, Brunelleschi, Caravaggio, Rembrandt and George Segal. Additional research projects have brought her to Cuba, Sweden, Estonia, and Italy.
Committed to bringing music education into underserved communities, Isaacson started the music department for the Cesar Chavez Public Charter Schools in Washington, D.C. in 2005. In 2014 she helped to launch the Snow Pond Community Music School in central Maine. Isaacson has taught music composition in the Boston public schools through VSA Massachusetts and conducted through Boston City Singers and was Director of Choral Activities at Clark University in Worcester, Massachusetts. She now serves as a guest conductor and clinician at choral festivals through New England. Isaacson belongs to Beyond Artists, a coalition of artists that donates a percentage of their concert fees to organizations they care about. She supports the Natural Resources Council of Maine and Alight Humanitarian Relief through her performances.