Saturday, October 28, 2023 • 2:00 pm
Saint Leonard's Church
320 Hanover Street
Boston, MA 02113
THIS EVENT IS SOLD OUT.
We hope you were able to get tickets. Our next concert is "A Boston Christmas: Bright Star"  on December 15 and 16 at the Old South Church.
We hope to see you there!

La Dolce Vita celebrates the legacy of Italian composers from the Renaissance through contemporary composition. The program, set as a musical tasting menu, engages the listeners in a diverse program of Italian music that will be performed in Boston's oldest Italian church, Saint Leonard's in the North End.
Antipasti
Exultate Deo adjutori
Alessandro Scarlatti (1660–1725)
Primi
Ego Flos Campi
Surge Propera Mea
Rafaella Aleotti (c. 1575–1620)   
Si ch'io vorrei morire
Ah! Dolente partita
Claudio Monteverdi (1567–1643)   
Secondi
Domine ad adiuvandum me festina
Antonio Vivaldi (1678–1741) 
Te Deum
Domenico Scarlatti (1685–1757)  
Confitebor tibi Domine, P. 66
Giovanni  Battista Pergolesi (1710–1736) 
Laetatus sum
Antonio Vivaldi    
Contorni
Ave Maria from "Quattro Pezzi Sacri"
Giuseppe Verdi (1813–1901)    
Dolci
Giunone, cantata for the birthday of Ferdinando IV
Gioachino Rossini (1792–1868)
Concert Information
The concert is Saturday, October 28 at 2:00 pm.  Doors will open for concertgoers at approximately 1:30 pm. Latecomers will be seated at an appropriate time at the discretion of house management.  The concert is approximately one hour, with no intermission.
Location:   St. Leonard's Church, 320 Hanover St., Boston (North End). Note: The concert entrance is just around the corner on Prince Street (one flight of stairs).  For special access needs, please use the Hanover St. entrance, (through the garden) which is handicap-accessible. The church has no parking, and street parking is extremely rare. Please consider the MBTA or other travel methods to attend the concert.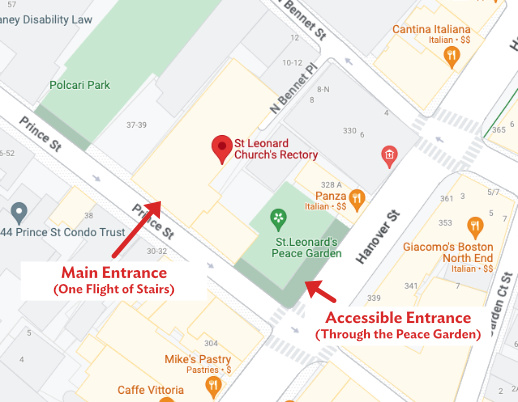 MBTA:  St. Leonard's is a 10 minute walk from  Haymarket station  (Green Line & and Orange Line).
Parking:  Validated discount parking ($3 for 3 hours) is available for concertgoers at the  Haymarket Center Public Garage, 136 Blackstone Street. Parking validation is available at the concert (see concert staff for validation, via QR code using your smart phone), or at most North End restaurants and businesses.
Note: Haymarket and the North End are very busy on Saturdays, and there may be lines or delays entering or exiting the garage. Please plan to allow extra time, or park a little further away, or use the MBTA.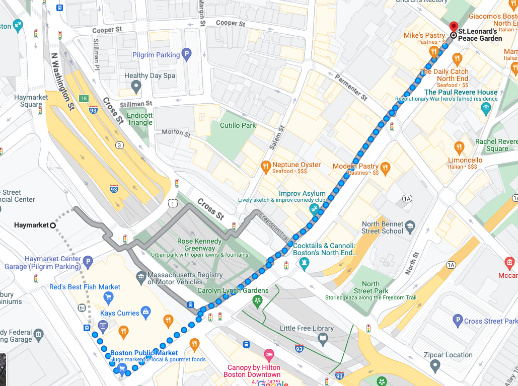 COVID-19 Policy:  At this time, there is no vaccine checking or masking requirement at Back Bay Chorale events. 
Robert Duff
Music Director Finalist and Guest Conductor
Dr. Robert Duff is in his eighth year at Brandeis University as Professor of the Practice of Choral Music. At Brandeis University he oversees the choral and vocal program, conducts the Brandeis choral ensembles, teaches conducting and choral methods, and serves as the Performance Track advisor for vocalists. Dr. Duff also serves as the Director of Music at Saint Cecilia Church in Boston and is the conductor emeritus of the Handel Society at Dartmouth College.
A strong proponent of new music, Dr. Duff has given several world premieres of works for both orchestral and choral forces. He previously served as Council to the New Hampshire Council on the Arts and has served on the faculties of Pomona College, Claremont Graduate University and Mount St. Mary's College. He holds degrees in conducting, piano, and voice from the University of Massachusetts at Amherst, Temple University, and the University of Southern California.
---
Carley DeFranco
Soprano
Described as "sunny", "supple" and "soaring," Boston-based soprano Carley DeFranco is known for her committed dramatic portrayals. A former Lorraine Hunt Lieberson fellow, DeFranco frequently performs with Emmanuel Music. Her favorite recent per-formance was Britten's Les Illuminations, a fully-staged collaboration with the orchestra of Emmauel Music, Shura Baryshnikov, and Urbanity Dance. Carley enjoys a varied career as a soloist and chorister and joins Handel and Haydn and Boston Lyric Opera as a member of their ensembles in the 2023–2024 season.  For more, visit Carley's web site >