Friday, May 10, 2024 • 7:30 pm
Sanders Theatre
45 Quincy St.
Cambridge, MA 02138

Lang The National Anthems (2014)
Esmail When the Violin (2018)
Haydn  Missa in Angustiis (Nelson Mass) Hob. XXII/11 (1798)
Back Bay Chorale & Orchestra
Caron Daley conducting
Buy "Fragile Freedoms" Tickets
"Arguably Haydn's greatest single composition."

–H. C. Robbins Landon
Three very different pieces ask a similar question, "How do we move through, and past, uncertain times?" We have all experienced the uncertainties of the pandemic, amid many other cultural and political turbulences. The music on this program doesn't seek to offer answers to the above question, but rather explores the liminal spaces that exist between turmoil and resilience, and in voices of various traditions and narratives.  
In the national anthems (2014), David Lang investigates how countries identify their national myths through their anthems. In composing the piece, he sought to distill common themes among the anthems, but found the results to be surprising. Rather than revealing confidence and courage, the lyrics often revealed a sense of fragility. Lang's music exudes hope as the words of these anthems unfold in a minimalistic and mesmerizing fashion. The result is an extraordinarily beautiful tapestry of sound and lyrics that is powerful and evocative.
Reena Esmail's When the Violin  (2018) explores a hopeful response to suffering through the beautiful 14th-century poetry of Hafiz. Hafiz likens the human spirit to a violin, which can only sing its fullest song when it forgives the wounds of the past. Esmail's extraordinary music bridges Western and Indian musical traditions by weaving a Hindustani raag into a rich polyphonic choral texture.
Franz Josef Haydn's Missa in Angustiis  Hob. XXII/11 (1798), or "Mass in Troubled Times" (also known as the Nelson Mass), is a stark and striking statement of faith, composed amid significant tumult in Europe. This is the third of Haydn's six late masses, and has been described by H. C. Robbins Landon as "arguably Haydn's greatest single composition."
Caron Daley
Music Director Finalist and Guest Conductor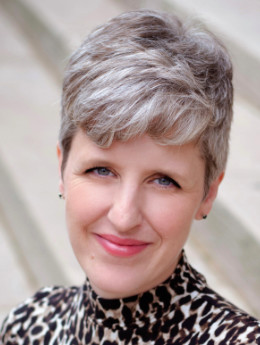 Dr. Caron Daley is Director of Choral Activities and Associate Professor of Music at the Mary Pappert School of Music at Duquesne University in Pittsburgh, Pa. Under her direction, Duquesne choirs have performed across the Northeast and Canada, including collaborations with the Pittsburgh Symphony Orchestra. Caron has held past conducting appointments with the National Youth Choir of Canada, Toronto Mendelssohn Choir, University of Toronto, St. Michael's Choir School, and Salem Academy and College.
In 2012, she founded the Halifax Choral Conducting Institute, which inaugurated a Women's Conducting Intensive in 2019. Dr. Daley holds degrees in Choral Conducting from the University of Toronto, Choral Conducting and Vocal Pedagogy from The Ohio State University, Music Education from Western University, and a diploma from the Royal Conservatory of Canada. She serves as National Chair for College and University Choirs with the American Choral Directors Association.