Mendelssohn: Elijah
Sunday, November 1, 2020 at 3:00 p.m.
PERFORMED IN ENGLISH
PLEASE NOTE:Ticket holders for "Elijah" on May 8 will be contacted directly to determine how they would like us to handle their tickets. We hope you will consider converting your tickets into a tax-deductible donation, providing sorely needed support to Chorale, which faces significant losses in ticket revenue. Alternatively, we would be pleased to transfer your tickets to the performance of "Elijah" on November 1, or you may request a refund.
Tickets from $10 • Students Free with Valid ID
PROGRAM NOTES
BRETT KOSTRZEWSKI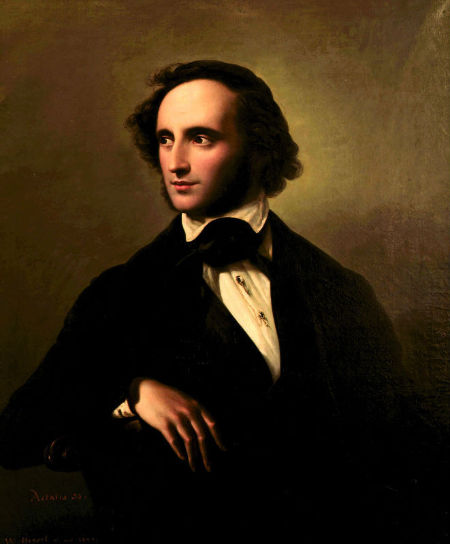 Western art music faced an identity crisis in the 19th century.  As culture became more attuned to the music of earlier periods, an inevitable question emerged: How much, if any, should the music of today—and tomorrow—be beholden to the music of yesterday? The most famous site of this debate lay between Johannes Brahms and Richard Wagner later in the century (albeit somewhat overblown; Wagner and Brahms maintained a cordial relationship of mutual admiration). But one can trace this tension as early as the discussions between and surrounding Hector Berlioz and his great German contemporary Felix Mendelssohn (1809–47)—an important conductor, composer, and pianist who oversaw the vibrant musical life of Leipzig during his short but prolific career.
Mendelssohn's love for music of the past is well-known. Part of it was no doubt a stroke of luck. He was born into one of Germany's wealthiest families, which held an important collection of Johann Sebastian Bach's autograph manuscripts—mostly of his vocal music. Beyond that, however, Mendelssohn demonstrated a deeply-held respect for past musical traditions that fused with an utterly original taste and talent. See, for example, his famous revival of Bach'sSt. Matthew Passionin 1829. This was no historical performance as we know it today, but a true rearrangement—Mendelssohn excised a great number of arias, "dramatizing" the Passion into a more typical oratorio; he updated the orchestra, adding modern instruments such as clarinets; and he conducted from the piano. The result was a distinct version of Bach's masterwork with a musical and cultural significance of its own (and, in today's culture of historical performance, perhaps deserves renewed attention in its own right).
Vocal music formed an essential part of Mendelssohn's output. Among his many motets, a choral "symphony," and other works for chorus and orchestra, Mendelssohn completed two full-length oratorios and began a third,Christus, that remained unfinished. The two complete oratorios, St. Paul and Elijah, reveal Mendelssohn's fascination with and dependence on the musical forms of the past—as well as his ability to produce something entirely new. From a religious per-spective, the prophet Elijah may have had special significance for Mendelssohn. Felix's grandfather Moses was an important Jewish philosopher in 18th-century Germany; of Moses's six children, two remained Jewish, two became Catholic, and two became Protestant—including Felix's father. Elijah's importance to Jews and Christians alike, as well as the many important scriptural parallels between Elijah and Jesus, might explain the appeal to Mendelssohn of an Old Testament subject otherwise not treated by earlier oratorio composers.
Mendelssohn was born into one of Germany's wealthiest families, which happened to hold one of the largest collections of Johann Sebastian Bach's autograph manuscripts.
Elijah, op. 70, was the fruit of a long genesis. He was considering the Old Testament prophet as the subject of an oratorio as early as 1836, the year he completed and premiered St. Paul; work on a libretto began the year after that. Not until 1846, however, did Mendelssohn take on the oratorio full-time. The impetus was a commission from the Birmingham Festival in England. Mendelssohn had traveled to England in the early 1830s, and his work was becoming well-known there. This, coupled with England's uninterrupted love affair with Handel's oratorios (and oratorios in the Handelian tradition, such as Haydn's The Creation), made Mendelssohn's nascent idea for such an oratorio of great interest to the festival programmers. This also made for a challenge of language. The libretto, composed in German by the St. Paul librettist Julius Schubring, draws upon the biblical narrative of Elijah as told in the books of 1 and 2 Kings. Each part was then sent separately to England to be translated into English by Mendelssohn's friend and colleague, William Bartholomew. Discomfort with the English syntax and its musical setting has led to several later attempts at a translation, including one by American conductor Robert Shaw. Notably, the score was published with the text in both languages, a precedent that was established with Haydn's The Creation(which was, however, fully conceived, composed, and performed under Haydn's supervision in German).
Supplementing an otherwise dry account of Elijah's ministry with dramatic retellings of the prophet's works, as well as passages from the Psalms and other Old Testament books, Mendelssohn crafted a vivid musical drama.
I alluded earlier to Mendelssohn's "dramatization" of Bach'sSt. Matthew Passion. Mendelssohn and his librettist did the same to the otherwise dry Old Testament account of Elijah. From a series of dramatic retellings of Elijah's works, as well as reflections and rumi-nations from the Psalms and other Old Testament books, Mendelssohn crafted a vivid musical drama of the prophet's ministry. The scenes in which Elijah calls upon God's power in the face of Baal's followers, and the sudden turn against Elijah by the people both take on a gripping intensity. But between these dramatic moments, akin to Bach's use of chorales in his Passions, Mendelssohn composes some of his most serene and beautiful music for the chorus.
The work, both in its libretto and in Mendelssohn's musical setting, becomes much more than just a narrative about Elijah. As the opening arioso for Elijah makes clear, the oratorio is about Elijah the man—his struggles, his weaknesses, and most importantly, his faith. Mendelssohn introduces a pair of descending tritones during the opening monologue that become a theme throughout the work, achieving final resolution in the great choralAmenthat concludes the oratorio. 
Mendelssohn thereby captured one of the great mysteries, and great beauties, of God's works as recounted in the Bible. God works with the unlikeliest of individuals, often frail, weak and uncertain, enabling them to achieve greatness in his name. In this way, Elijah's poverty—out of which God works miracles, and ultimately brings him into heaven on a fiery chariot—prefigures God's own poverty in the form of Jesus Christ. 
Mendelssohn links Old and New Testaments with the chorus "He that shall endure to the end," drawn from the Gospel of Matthew, recounting words that Jesus gave to his Apostles to preach specifically to "the lost sheep of the house of Israel" (c.f. Matthew 10:6–7). The result is a triumph of musical and religious expression at the nexus of Old and New, always relevant, and ever beautiful.