Bridges
A Commitment to Service
Bridges is an integral part of the Back Bay Chorale's mission to celebrate and share the unifying power of music with our community.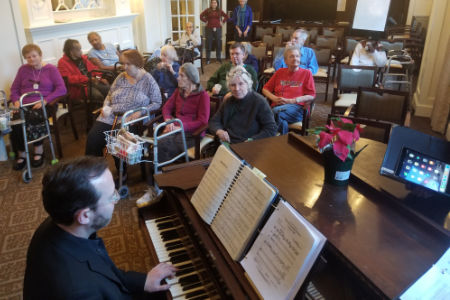 In particular, we seek to provide access for those who are unable to attend and experience a live musical performance due to various barriers, including disability, financial limitations, and institutional isolation.
Our musical journey includes diverse global repertoire programming to engage with cultural communities and raise awareness of social issues.  
Since 2013, Bridges has provided access to communities living with Alzheimers' and Parkinsons' diseases,  to veterans recovering from injury and PTSD, and to those living at a shelter. The Chorale has also provided young collegiate singers opportunities to participate in our outreach activities. In addition, a small ensemble of Back Bay Chorale performs at U.S Naturalization Ceremonies, welcoming new citizens into our community.
This 2019/20 season, Bridges will be collaborating with the Boston Public Library in providing a musical experience to members of the community learning English (ESL).
Voices, spirits lift in face of Parkinson's steady toll — Boston Globe